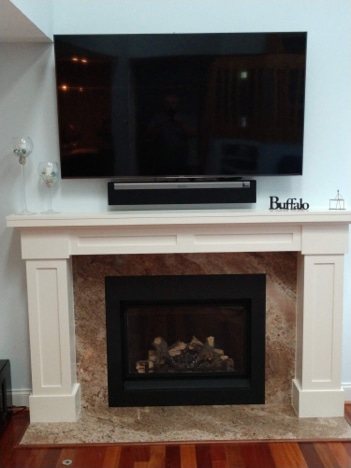 If you have a gas fireplace in your home, then it's important to know how crucial keeping it properly maintained is. At TRS, we handle all aspects of inspection and repair with the care and expertise that area residents have come to count on. Gas fireplace repair could involve fixing any of the following:
Bad Wall Switch
Did your wall switch for your fireplace stop working? Does it only work some of the time? Our fireplace specialists will look at your wall switch and troubleshoot to figure out why it's not working to give you warm, glowing flames. We will also replace your bad wall switch with one that works better.
Bad Toggle Switch
We repair and replace any kind of gas fireplace switch so that you and your family can enjoy the luxury of your gas fireplace again.
Broken Thermopile
Thermopile is a an important device that converts thermal energy into electric energy. The purpose of a thermopile in a gas fireplace is to detect thermal radiation, for gas burner safety control. It is also are used to provide spacial temperature averaging, and to provide an output in response to temperature as part of a heat flux sensor. If your thermopile is broken, our experts at TRS will test and repair your faulty thermopile sensor.
Corroded Valves
If your gas fireplace has corroded valves, our experts will repair or replace your fireplace's valves.
Defective Pilot Light
A common problem gas appliance owners experience. Often the problem can be fixed be re-lighting the pilot light. However if you find yourself constantly lighting the pilot light, there could be several other problems going on. If this is you, call our experts at TRS today. We will repair or replace your pilot light, so that you are able to enjoy your fireplace.
Defective Wall Switches
We will test the sensors to determine their level of function, and replace or repair them depending on their condition.
Loose Connectors
Loose connectors in your gas fireplace can lead to serious problems with your fireplace, like a house fire. To prevent this, it's important to have a specialist take a look at the condition of your fireplace and make sure that there are no problems. If you have loose connectors, our fireplace experts will tighten them or replace them if needed.
Thermocouple Problems
A thermocouple is an important device that keeps the pilot gas tube open while the pilot light is lit. Over time, thermocouples wear out and need to be replaced. In order to determine that your thermocouple needs to be replaced, it's important to have an expert test your pilot light. At JRS, we both test the pilot and then replace or repair the thermocouple, if necessary.
It takes specialized skills to install and repair gas fireplaces. That's because a fuel leak or faulty equipment could result in putting the lives of your family in danger. That's why all of our TRS employees receive special training before performing any repairs or installations, making them highly qualified to repair your existing gas fireplace or to recommend you replace it.