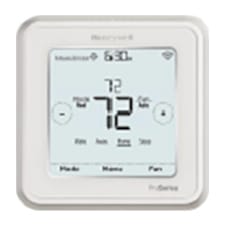 TRS Heating and Air Conditioning can help you control the temperature and comfort of your home with a digital thermostat. We can also repair and maintain your existing digital thermostat.
Making sure your air conditioning system is essential to your home's level of comfort as well as being an important aspect in your home energy bills. If your system isn't running to the best of its abilities, it could be consuming more energy than it needs to and not providing the comfort it should.
Talk to an Expert by calling (716) 825-9911.
Temperature Control (Thermostats & Zoned Comfort Control Systems)
Digital Thermostats control not only your home's heating and cooling, but your overall comfort. Few homeowners spend much time thinking about thermostats and which one is right for their home. But perhaps they should, because a properly designed thermostat can do much more than just turn your heating and cooling system on and off. And while you usually think of thermostats as just controlling your home's temperature, we view thermostats as your easy-to-use command center that lets you control and customize your entire home's comfort experience.
Enhanced comfort and energy savings is just a thermostat away.
What is the single easiest way to get higher performance from your existing heating and cooling system while lowering your home's overall energy costs? Simply install a Programmable Thermostat. According to the U.S. Environmental Protection Agency, a programmable thermostat can save you up to 30% on energy costs annually.
But if you're interested in getting the very best in temperature control for every room in your home, a Zoned Comfort Control system is your answer. Instead of using just one thermostat for your entire home, a Zoned Comfort Control system uses multiple thermostats to ensure optimum temperature levels and total comfort in every room of your home.
That's why we created an entire family of digital thermostats to meet just about any home's specific needs. Constructed with the latest technology and filled with innovation, these thermostats give you entirely new levels of control over your heating and cooling system and your overall home comfort.
Zoned Temperature Control
One room too hot while another is too cold? Not with Zoned Comfort Control. Do you turn on all the lights in your entire home with just one light switch? Of course not. You turn on lights when and where you need them. A Zoned Comfort Control system extends this simple, energy-saving concept to home temperature control.
The only place where the temperature matches the thermostat is at the thermostat. Different areas of your house have different temperature needs as do individual family members. What may be cool to one member may be warm to another. Heat rises up, leaving the main floor cool and second floor bedrooms hot. Cool air settles into the basement. Windows to the south soak up the sun making certain rooms uncomfortably hot, while northerly winds may make some rooms feel too cool.
Add some of today's most desired home design features, and the problem gets worse. Large glass expanses, vaulted or cathedral ceilings, finished basements, solariums, lofts — they all can cause temperatures to vary dramatically from one part of a house to the next. Expecting one thermostat in a single room to control temperature variations throughout your home is asking the impossible. A Zoned Comfort Control system increases comfort by controlling specific temperature needs in designated areas of your home — making you and your family more comfortable while saving money by using less energy for heating and cooling needs.
What is Zoned Comfort Control?
Zoned Comfort Control is a system of more than one thermostat, electrically connected to a control panel which operates a number of dampers in your forced air heating/cooling system. Conditioned air is then distributed to various parts of your home as needed. The system can be installed in new or existing homes helping you achieve total indoor comfort. Plus there is no service required — only changes in living habits may make it necessary for system adjustments from time to time. "Zone heating and cooling is [also] used in some homes. This allows you to reduce the heating and cooling to an unused part of your home, and can substantially reduce your energy bills."
Why Do I Need It?
You need Zoned Comfort Control in your home if one or more of these conditions exist:
It contains more than one level
There are large, open areas such as vaulted ceilings or lofts, an atrium or a solarium
There is a bonus room off the back or over the garage
There are finished rooms in the basement or attic
It has a room or rooms with expansive glass areas
Family lifestyles dictate different temperatures in different areas of the home
Heating and cooling temperature patterns vary at different times of the day
A portion of the home is built over a concrete slab floor
Your home rambles in many directions like a ranch or has wings extending off the main living area
If there are areas in your home that have cooler or warmer rooms and uneven temperatures which cause discomfort for you or family members, a Zoned Comfort Control system is your answer.
TRS Heating and Air Conditioning can help provide a solution for you and your family's comfort level.